Car Spray Booth, Painting Room for Car Maintenance
Product Description
Model NO.:
Painting Room
Certification: CCC, CE, ISO Brand:
Auto Spray Booth
Airflow Direction: Cross-flow Type Paint Mist Treatment: Dry-type Internal Size: 6900 X 3900 X 2750 mm Baking Temperature: 60 ~ 80 °c Trademark: jsours Origin: Jiangsu Yangzhou Type: Paint
Spray Booth
Substrate: Steel Coating: Painting Heating Mode: Diesel Condition: New External Size: 7050 X 5250 X 3600 mm Burner: Riello Italy Specification: CE HS Code: 8424899990 Car Spray Booth, Painting Room for Car Maintenance
Dimension:
Outside dimension:7000*5350*3430mm(L*W*H)
Inside dimension:6900*4000*2800mm(L*W*H)
Front door dimension:3000*2700mm(W*H)
Working door dimension:800*2000mm(W*H)
Total power:7.5KW
Cabin system: 
1)Wall panel:
50mmthick flame-resistant and heat-preserving EPS board;0.376 thick colored steel.
Roof panel: galvanized sheet;
2)Basement :steel structure base;two line grilles,three diamond plates;inside ramps;height is 280mm;
Air circulation system:

 

 

Inlet fan
Blower Capacity:  22000m3/h

Outlet fan for option

Power:              5.5kw

Quantity:            1 sets
One set automatic damper,10N actuator 
Generator:slid upward side intake air;rare upward side exhaust; quadrate steel frame;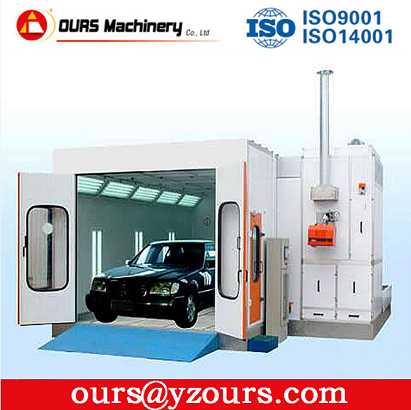 Air purification system:
Pre-filter,high efficiency filter(ceiling filter),floor filter; 
Heat system:stainless steel SUS304 heat exchanger,RIELLOG20 diesel burner one stage,heating capacity is 180000Kcal/h,electric damper from spraying to baking cycle;oil consumption 4~6L/set; the heating time is 5~7 minutes; 
Linghting system:≥700Lux
Ceiling Lights: 8Groupsx3Pcs=24Pcs x36W
Glass: all glass is clear tempered glass. 
Control box: Lighting switch, spraying, risen-temperature spraying, baking, baking temperature, time setting, failure indicator, temperature controller, emergency stop, breakdown alarm; 
Waste Gas Treatment: The waste gas is directly discharged. The eco-friendly cabinet can be optionally installed. 
Warning:
(1) The air into the room of the lacquer that bake is the main source of pollutants.In the room of the lacquer that bake is not used, should be the lacquer that bake room door is closed, it is forbidden to make the door of the room of the lacquer that bake for a long time in the open state.In a lot of the garage, putty grinding work, often in very close area of room of the lacquer that bake, polishing putty will produce large amounts of dust, in the process of the flow of the large amount of dust in the air such as putty ash is easy to enter the room of the lacquer that bake.If be bored with child finish taken clean dry grinding technology, conditions are relatively good, if you take this manual polishing method, pollution is very serious.Therefore, in the garage, putty grinding work should be done in the area of far away from the room of the lacquer that bake.
(2) The work room of the lacquer that bake, ventilation fans outside air will be pumped in, after paint on the ceiling filter cotton blow down, the air is pumped from the lacquer that bake room floor paint, lacquer that bake is created inside the room and down drafts, in this way, even if there is a small amount of dust inside the room of the lacquer that bake, also won't float in the sky.Paint on the ceiling filter cotton can filter out most of the dust, and to maintain the cleanness of air into the room of the lacquer that bake.Therefore, should be replaced periodically room ceiling filter cotton and the lacquer that bake on the room of the lacquer that bake the adsorptive cotton on the floor.
(3) For spraying the vehicle itself is usually the biggest pollution source inside the room of the lacquer that bake.Wheel, bumper and gather a large amount of pollutants in areas such as the engine compartment, thorough cleaning car body can reduce the impact of these pollutants to
Paint Spraying
.Therefore, body wash etc. Good preparation is very important.
(4) Paint operators wear work clothes are important pollution sources.In many repair shop, polishing putty and spraying the paint work is done by the same person, a lot of workers in polishing putty and spray paint in the same set of fatigues, this is not correct, there should be a dedicated work clothes when spraying paint.In the room of the lacquer that bake, should wear overalls without fiber loss, wear rubber gloves, protective mask and respirator, in every way when paint spraying to keep such a dress.Not to wear special clothing workers are strictly forbidden to enter the room of the lacquer that bake, but only from peep window watching paint job, in order to avoid pollution of paint.(5) in addition to the cover body and coating outside of work must be finished in the room of the lacquer that bake, other body preparation and allocate the work should be done outside the room of the lacquer that bake paint.Some shop in the room of the lacquer that bake even clean vehicles or polishing putty, this is a serious violation of repair paint specifications.
(6) Spray gun, spraying equipment to keep clean.Spray gun should be cleaned after each coating operation in time, lest gun paint dry, dry paint to condense into, if during spray drying of paint, the formation of defects on the surface of the paint.
(7) At each spray paint after the completion of the work should be cleaning the room of the lacquer that bake the floor and walls, will cover the body cover used in items such as clean up.Paint should be as far as possible when using disposable cover cover body, try not to use cotton cover garment and wheel cover, car because the car easy to gather dust.
(8) Should not be placed inside the room of the lacquer that bake parts and paint cans and other sundry, because these things will eventually accumulated dirt and pollution for spraying vehicles.Spray gun, paper tape, putty, the goods such as clothing and work clothes should not be stored in an open environment, these items should be put in airtight stored indoor and ventilated.In short, in order to guarantee the quality of paint spraying, paint the room environment maintenance and strict operation standard is very necessary.
  Contact us if you need more details on Car Spray Booth. We are ready to answer your questions on packaging, logistics, certification or any other aspects about Painting Room、Car
Paint Booth
. If these products fail to match your need, please contact us and we would like to provide relevant information.
Product Categories : Paint Spraying